ChemStation Buffalo
P.O. Box 231 | Buffalo, NY 14240 | 716.247.5301
ChemStation Buffalo
Concrete Form Release
---
---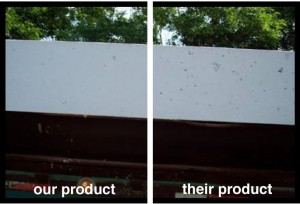 ChemStation Buffalo's concrete form release solutions allow parking blocks to literally fall out of the forms, completely clean with a buttery smooth surface. Good for culverts, handicap ramps, K-rails, concrete pipes and other forms. Our custom-formulated, environmentally friendly form release solutions are manufactured locally and delivered to refillable containers. And, they're non-staining and have a pleasant odor.
Other reasons to choose ChemStation Buffalo's form release:
Promotes stripping
Eliminates bugholes
Will not affect the adhesion of caulks, paints, or coatings
Can be applied in sub-freezing or very hot temperatures
Contains no VOCs
Provides architectural-grade results
Are water-based and oil-based
---
ChemStation Buffalo the Western New York Solution
---
ChemStation Buffalo proudly specializes in providing our customers with the highest quality, environmentally friendly cleaning products and industrial cleaning products.